Red Mixed Case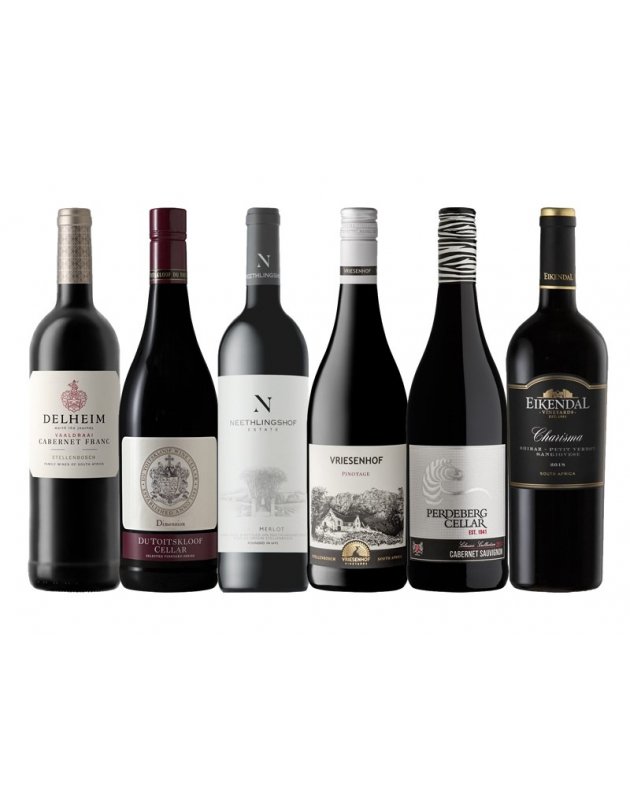 Red Mixed Case
Delheim Vaaldrai Cabernet Franc: Dark in colour with a red rim. Complex flavours and aromas of blackberries& dark cherries, spice and dark chocolate. You will also find hints of fresh herbaceous notes, along with tobacco. The palate is well structured with fine oak integration and a lingering finish.  Age-worthy for up to 10 years.

Du Toitskloof Dimension : The wine holds a lively pomegranate hue and aromas of prunes, dark berries, chocolate and cassis on the nose. The wine is full-bodied and the palate is firm and graceful with a long, smooth finish and well integrated tannins from spending 25 months in French oak barriques.

Neethlingshof Merlot : Colour: Dark ruby.Bouquet: Strawberry with undertones of vanilla and caramel.Taste: Full bodied and velvety smooth with ripe, soft tannins.

Vriesenhof Pinotage : Bright fruit with aromas of blue berries and raspberries on the nose. There is a delicate flavour of fresh red fruit and cherries on the palate and floral hints on the finish.

Perdeberg The Classic Collection Cabernet Sauvignon : A dark purple Cabernet, with a blackcurrant and cherry nose. The palate experiences dark fruit and hints of vanilla. The aftertaste is long and smooth.

Eikendal Charisma : The Charisma 2018 is an ingenious creation at the hand of Cellar Master, Nico Grobler, inspired by his travel experiences across the globe. The Shiraz (Rhone Valley) lends a tight, fresh structure with aromatic and seasoned undertones. Petit Verdot (Bordeaux) contributes a rich berry character and the Sangiovese, in true Italian style, adds fruity flavours with flair on the palate. The result is a bold, charming, seductive and ultimately elegant wine.
Technical Analysis
alc
0
rs
0
pH
0
Wine Information
Winemaker
various
Variety
0
BlendPercent
various
Style
type
Red
Type
Kosher
0
Organic
0
Vegetarian
0
Wooded
0
Pack
Closure
0
Pack Size
750ml
Pack Type
Bottle