Winners' Pack 2020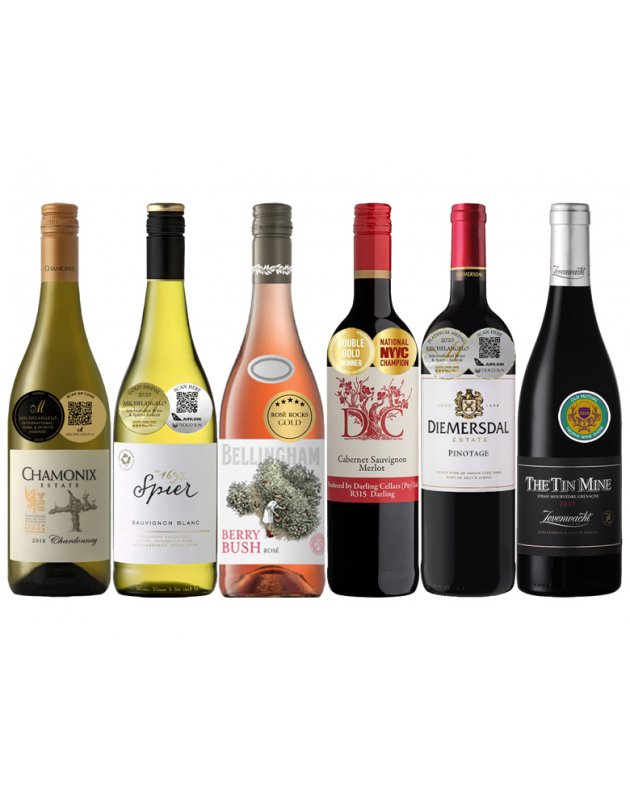 Winners' Pack 2020
Chamonix Chardonnay 2018 (Michelangelo Awards 2020 - Grand Prix Trophy Best Scoring Wine ): The wine shows bright straw yellow colours with golden highlights and ample aromas in scents that recall tropical fruits and grapefruit, mingling with hints of oatmeal, caramel and nutmeg. Medium­ bodied with richly complex fruit flavours.
Spier Signature Sauvignon Blanc 2020 (Michelangelo Awards 2020 - Gold) : .Pale straw in colour with a greenish hue. Intense aromas of gooseberries, passion fruit and green fig, with green bell pepper undertones. The palate is fresh and mouth-watering with a well-balanced acidity.


Bellingham Berry Bush Rosé 2020 (Rose Rocks 2020 - Gold) : Gracefully pink with burnt orange flashes bursting with enticing crushed red berry, candied red apple, Turkish delight and rosewater aromas. Soft and fruity on entry with succulent strawberry and raspberry flavours and subtle spice on a lively dry fruity finish.
Darling Cellars Cabernet Sauvignon/Merlot 2020 (Veritas Awards 2020- Bronze) : A fruit forward wine with an array of complex aromas which include candy floss, red cherries, cranberries and mulberries. This elegant fruity wine will be a perfect fit for all festive occasions.


Diemersdal Pinotage 2019 ( Michelangelo Awards 2020 - Platinum) : This wine shows a complex nose of red fruits, vanilla, exotic spices, and rich dark chocolate aromas. The palate is full flavoured and smoothly textured with oriental spice, chocolate and roasted banana flavours.


Zevenwacht The Tin Mine Red 2017 (Old Mutual Trophy 2020 - Best Red blends - Rhône style 84 points) : The wine exudes aromas of smoky black plum and cranberry opening to raspberry and peppery spice. The palate impresses with density on entry matched with persistent yet supple tannins - a multi layered wine. This texture is perfectly offset by balanced acidity that allows for a remarkable length of finish
Technical Analysis
alc
0
rs
0
pH
0
ta
0
Wine Information
Accolades
Brand Group
wine.co.za
Other
We have curated a special selection of this year's top winning winesShop now while stocks last. Delivery anywhere in South Afric
Winemaker
Various
Variety
Various
BlendPercent
FoodSuggest
Ageing