A Taste of Chenin Blanc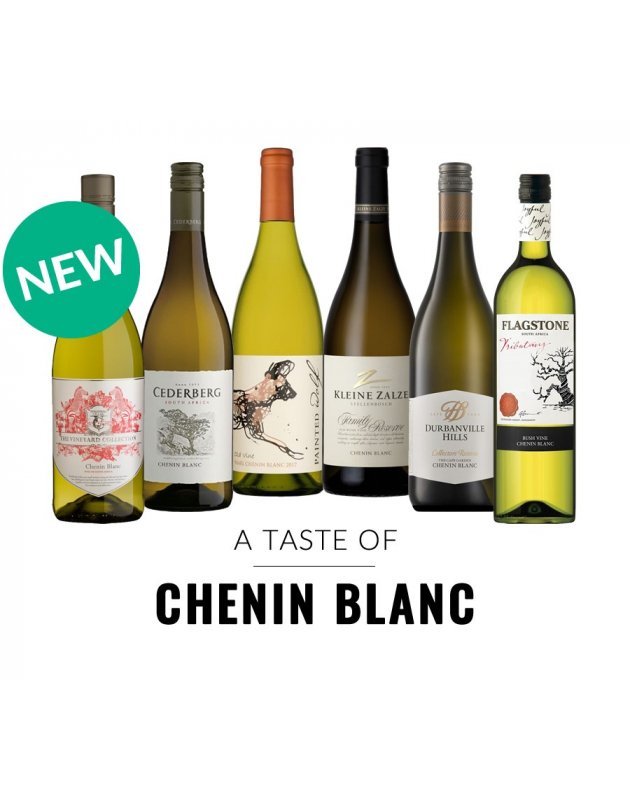 A Taste of Chenin Blanc
Taste iconic South African wines.  Chenin is a truly South Africa taste. Even the French (the Loire Valley being the birthplace of Chenin) are taking a look at what our new world winemakers are doing with this old variety. Enjoy 6 proudly South African wines from our top producers.
Perdeberg The Vineyard Collection Chenin Blanc : Pear, peach and tropical notes are all prominent on a very generous nose. The palate is rich, but still fresh with hints of citrus and litchi.
Cederberg Chenin Blanc : The Cederberg style Chenin Blanc offers beautiful layers of melon, grapefruit and fleshy white pear. Four months lees contact ensured a mouth coating creaminess on the palate with a lively crisp acidity to finish off. Altitude vineyards make this Chenin Blanc truly unique. This wine will be well suited to creamy dishes as well as light summer lunches.
Painted Wolf Paarl Old Vine Chenin Blanc : An elegant wine, with an aroma of peach cobbler, lime and vanilla. The wine has a creamy finessed texture with a long finish with bright acid keeping it fresh and vibrant. 4300 bottles produced
Kleine Zalze Family Reserve Chenin Blanc : Aromas of citrus, quince, green melon and savoury notes on the nose with layers of pear and honeysuckle on the palate. Elegant fruit and integrated French oak flavours give this wine a silky mouthfeel and a long, fresh, mineral finish.
Durbanville Hills Collectors Reserve Cape Garden Chenin Blanc : Colour: Light straw with green edges.
Nose: Combination of pineapple, apricot roll, dried mango, green apple, cinnamon and vanilla flavours.
Taste: Elegant wine with lime, sweet apricots, oak spice and vanilla with a creamy texture.
Flagstone Tributary Chenin Blanc : Colour: Brilliant gold with green tint.
Bouquet: Fresh peach, ripe apricot and dried pear introduce exotic aromas of this noble grape.
Palate: Tropical notes follow through to palate with hints of stone fruit and vanilla, finishing with a well-balanced crisp acidity
Technical Analysis
alc
0
rs
0
pH
0
ta
0
Wine Information
Winemaker
A selection from wine.co.za
Variety
Chenin Blanc
BlendPercent
chenin Blanc
Style
type
White
Type
Kosher
0
Organic
0
Vegetarian
0
Wooded
0
Pack
Closure
0
Pack Size
750ml
Pack Type
0