A Taste of Shiraz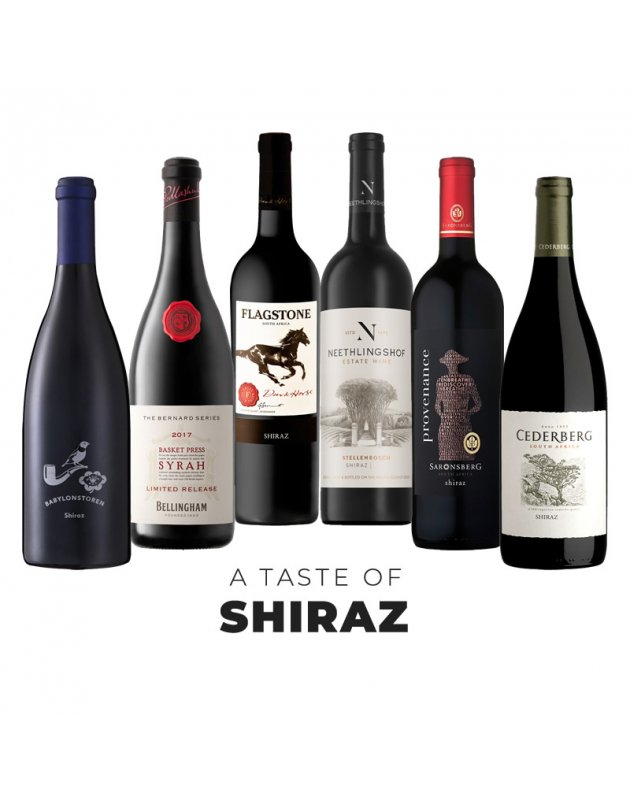 A Taste of Shiraz
Babylonstoren Shiraz : Fruit driven, cool cassis and pencil shavings on the nose with aromatic layers of spiciness and black pepper. Elegant, velvety mouth-feel and long, lingering finish.
The Bellingham Bernard Series Basket Press Syrah : A powerful aromatic wine that is assertive yet delicate and refined, with ample cracked black and white pepper spice, hints of rich dark chocolate against a substantial red berry fruit foundation tinged with subtle floral suggestions of violets and dried indigenous fynbos.
Flagstone Dark Horse Shiraz : Complex combination of white pepper, cigar box, mint and a concentration of dark fruit supported by subtle spicy undertones. The wine is big and round on entry with smooth and silky tannins that show well even though the wine is still young.
Neethlingshof Shiraz : Abundant aromas of berries and spice with hints of pepper and herbs.
With a palate of rich, soft and succulence, packed with ripe dark berry flavours. Elegant tannins make for an accessible and enjoyable wine that lingers on the palate with a spicy note in the aftertaste.
Saronsberg Provenance Shiraz : The soft textured tannins, full-bodied mouth-feel and silken finish lends itself as a platform for a heady mix of red berry and black fruit flavours combined with floral notes and fynbos nuances.
Cederberg Shiraz : A complex Shiraz filled with intense red fruit, mulberry and cherries on the nose. Well-balanced with elegant oaking expressing hints of sweet spice and vanilla. Red berries follow through on the palate and finishes off with a smooth lingering sensation. A well-crafted Shiraz that allows you to cellar the wine for a few years developing into a sensational wine.
NB: We may change the wines from time to time without notice due to availability


Technical Analysis
alc
0
rs
0
pH
0
ta
0
Wine Information
Accolades
Brand Group
wine.co.za
Other
Winemaker
Various
Variety
Shiraz
BlendPercent
100% Shiraz
FoodSuggest
Ageing
Style
type
0
Type
Kosher
0
Organic
0
Vegetarian
0
Wooded
0
Pack
Closure
0
Pack Size
0
Pack Type
0