A Taste of Sauvignon Blanc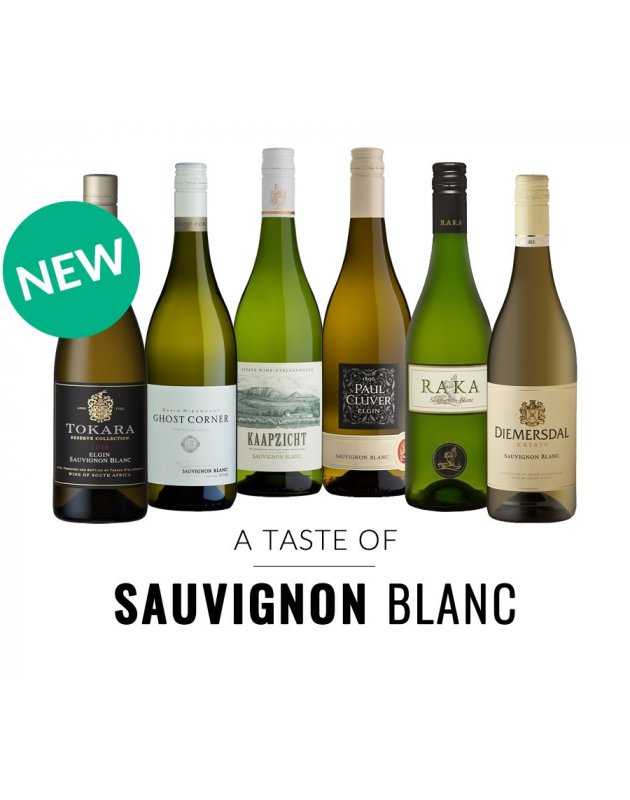 A Taste of Sauvignon Blanc
Sauvignon Blanc is a white grape variety known for its green herbal flavors, classic crisp & dry characteristics.It is one of the most widely planted grape varieties in the world. It goes well with chicken, tofu, fish dishes with herb sauces , and pairs well with Thai and Vietnamese cuisines.
Tokara Reserve Collection Elgin Sauvignon Blanc : The wine displays a stunning light straw colour with a green edge. Inviting aromas of granadilla, cape gooseberries, lemon grass and hints of fresh cut grass entice the senses. There is an amazing freshness as the wine enters the palate, with fresh citrus, grapefruit flavours leading to a creamy mid-palate and a lingering crisp finish.
Ghost Corner Sauvignon Blanc : A unique Sauvignon blanc that cannot be compared to any other. Powerful concentrated layers of green figs and gooseberries, with a touch of grapefruit, fynbos and a steely minerality on the palate. A reflection of the cool maritime climate of Elim where the grapes are sourced. Lees contact during the winemaking process creates length and richness on the aftertaste, which will progress even more over the next 2 or 3 years.
Kaapzicht Sauvignon Blanc : Green apple, freshly cut grass and lime aromatics interplay with punchy tropical fruit and fresh figs. Fresh and vibrant, with a brisk acidity that makes for a mouth-watering, dry finish
Raka Sauvignon Blanc : Pale straw colour with a lavish bouquet of grapefruit, kumquat, granadilla and a touch of gooseberries. These characters follow through to the palate complemented by mineral tones true to the decomposed sandstone in which the Sauvignon Blanc is cultivated. Crisp green apple finish.
Paul Cluver Sauvignon Blanc  : The colour is clear and bright, with a hint of green. The nose is clean and fresh with expressive granadilla, grape fruit, gooseberry and black currant characteristics. These flavours follow through onto the palate which has a lovely creamy texture - the result of extended lees contact and the higher Semillon portion.
Diemersdal Sauvignon Blanc : This vibrant, classically styled Sauvignon Blanc presents a brilliant lemon-lime colour. The nose is complex with an array of tropical fruit, ripe figs and gooseberries. These crisp flavours repeat in the mouth, along with a mineral character followed by a long fruity finish. The distinctive aromas support a wonderfully balanced palate, presenting purity of ripe fruit, coupled with a lingering harmonious finish
Technical Analysis
alc
0
rs
0
pH
0
ta
.
Wine Information
Winemaker
A selection from wine.co.za
Variety
Sauvignon Blanc
BlendPercent
.
Style
type
0
Type
Kosher
0
Organic
0
Vegetarian
0
Wooded
0
Pack
Closure
0
Pack Size
0
Pack Type
0